1. Create HTML banners with the Google Web Designer
A free option for creating HTML5 banners is the Google Web Designer as a classic desktop application. With it, you can create professional, animated banners even without HTML knowledge.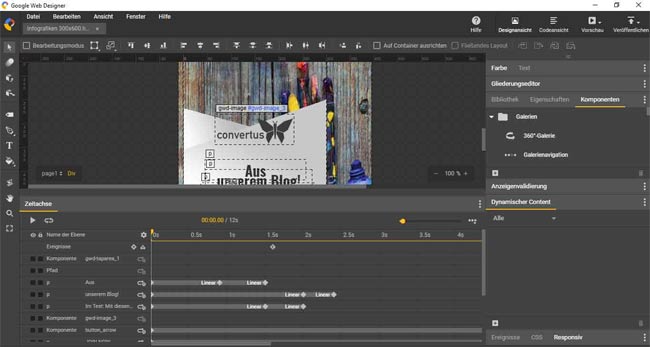 Due to the large range of functions, the user interface is somewhat complex and confusing. The tool also appears to be a bit buggy here and there. Nevertheless, if you work extensively with Google Web Designer, you can create attractive HTML banners in no time at all – especially in the various standard sizes for Google Ads. Another disadvantage: A database with graphics, CTA's, etc. is not available to users.
2. Creation of HTML banners with cloud-based tools
For the creation of static graphics or animated HTML banners, cloud-based tools such as creatopy are perfectly suited. Especially the compatibility with Google Ads and Facebook Ads makes banner creation much easier. The most important features are already part of the free version.
The interface is easy to use and clearly laid out. In the beginning, users select the appropriate banner size and a suitable template. Alternatively, banners can also be created without a template. All common functions are visible at first glance and allow quick familiarization.
Looking for an even more professional solution? With Adobe Animate you can create HTML5 banners that leave nothing to be desired. This video explains step by step how to create a clickable banner for Google DoubleClick.
3. Buy HTML5 Ad Template and assign micro jobs
Platforms such as Envato market offer marketers a comprehensive selection of HTML5 ad templates for purchase. Here a community of web designers gathers, which works worldwide on universally applicable templates. You can also find a suitable ad template for little money.
Most templates are compatible with Google Web Designer so that they can be easily customized. Biggest advantage: Many templates are specially designed for Google Ads. Thus, they already have all the important features.
4. Creation of HTML banners by an agency
Probably the most expensive option is to hire a professional service provider. By specializing in online advertising or banner creation, a fast result at a high level is guaranteed. Since agencies often offer "full service", you as a customer have to worry about almost nothing. Besides conception and design, they even take care of delivery. More comfort is not possible.
Conclusion
Display advertising still plays an important role in digital marketing. Especially when it's animated and interactive. This is exactly where HTML banners come into play. They can be designed responsively and provided with interesting effects. In short: HTML5 for display advertising is here to stay.
Which of the described ways you choose depends on your requirements, skills, and budget. For a small budget, Google Web Designer is quite suitable, if you accept a certain training period. If you like it more professionally, take a look at a SaaS solution like Creatopy, Adobe Animate, or Ad Builder.